It's official, Arlington Heights! Get ready for The Feather Thief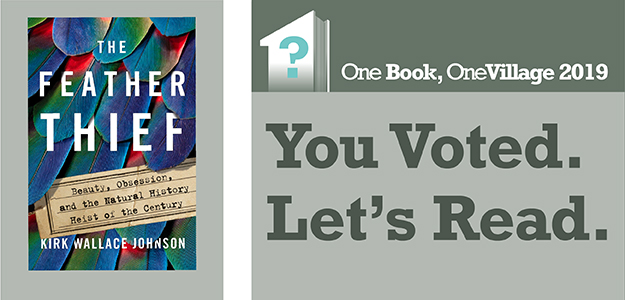 The votes are in! The winning title from our community vote for this fall's One Book, One Village is...
This is the first time we asked you to help us choose 'the book' for our annual community read and more than 1,150 people responded! Of the three books on the ballot, which ran from March 18-April 14, The Feather Thief captured about 43% of the vote. Thank you to everyone who voted!
Save the Date
We are pleased to announce that author Kirk Wallace Johnson will visit Arlington Heights on Thursday, October 10. Watch for details on this exciting event and other OBOV-related programs and book discussions coming this fall on our website and in our September newsletter.
About The Feather Thief: Beauty, Obsession, and the Natural History Heist of the Century
Truth is stranger than fiction in this gripping story of a bizarre and shocking crime. In 2009, an American music student broke into the Tring Museum of Natural History in London, stole 299 rare birds and disappeared into the night. Written like a true crime thriller, Johnson investigates the case years later and discovers bizarre twists and memorable characters that weave together into a page-turner you won't soon forget about greed, obsession and man's destructive relationship with nature.
The fast-paced writing and true series of events will hook readers from the beginning. The book opens a conversation on the consequences of one's actions, conservationism and human's relationship with nature.
"Captivating...Everything the author touches in this thoroughly engaging true-crime tale turns to storytelling gold. . . . Johnson's flair for telling an engrossing story is, like the beautiful birds he describes, exquisite. . . . A superb tale about obsession, nature, and man's 'unrelenting desire to lay claim to its beauty, whatever the cost." —Kirkus Reviews, Starred Review
About Kirk Wallace Johnson
Kirk Wallace Johnson is the founder of the List Project to Resettle Iraqi Allies, and the author of To Be a Friend is Fatal: the Fight to Save the Iraqis America Left Behind.
His writing has appeared in The New Yorker, The New York Times, The Washington Post and The Wall Street Journal, among others.
Prior to the List Project, Johnson served in Iraq with the U.S. Agency for International Development in Baghdad and then Fallujah as the Agency's first coordinator for reconstruction in the war-torn city.

He is a Senior Fellow at the USC Annenberg Center on Communication Leadership and Policy, and the recipient of fellowships from the American Academy in Berlin, Yaddo, MacDowell, and the Wurlitzer Foundation. Prior to his work in Iraq, he conducted research on political Islamism as a Fulbright Scholar in Egypt. Johnson received his BA from the University of Chicago in 2002.
Born in West Chicago, he lives in Los Angeles.