Caregivers and young children play and learn together in new workshop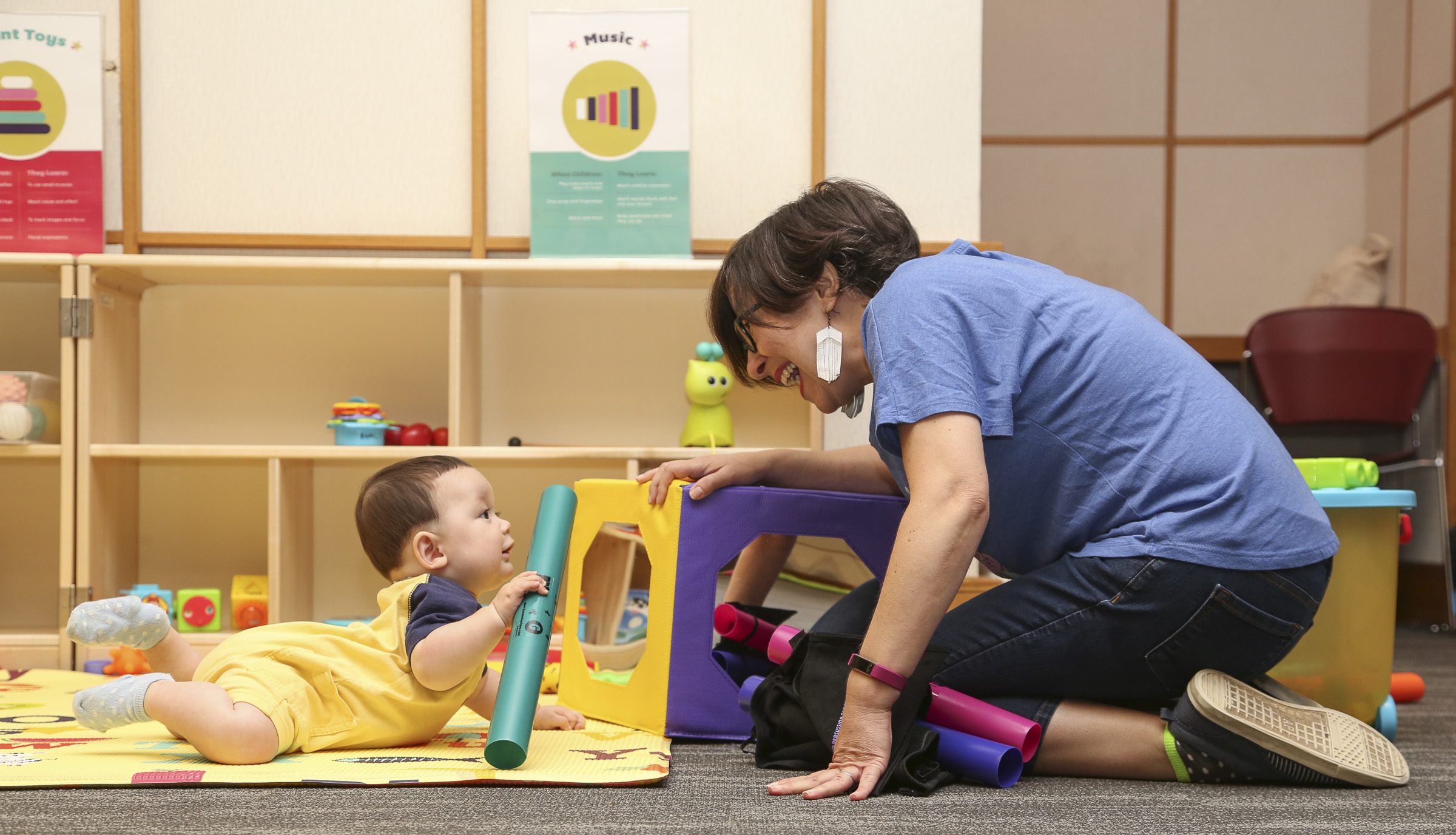 "We want you to have fun with your kids and play and learn and grow together," said Kids' World Assistant Manager Maria Papanastassiou to the caregivers and children who came out to the library's first family workshop program that began on Friday, September 13.
This five-week series of play and learning is an opportunity for caregivers and children to connect with each another. Stations filled with new toys for children between the ages of 0 and 3 were stationed throughout the Hendrickson Room, with information about the benefits they offer for a child's development. The variety of toys included music, infant toys, manipulatives, puzzles, gross motor, dramatic play, exploration, books, block play and transportation toys.
"We don't have a chance to see other kids, so I thought it'd be great to see kids around the same age as my daughter," said Kana Sugisaki, who attended with her 18-month-old child. "It's [been] fun and very informative. At home it's [harder] to try everything. At this workshop, it's easier to see what kind of toys she's interested in."
"I like that there's a safe place for kids to play," said Monica Federer, who arrived with her three children between the ages of 15 months old and 3 years old. "It's kind of a challenge to find a place where I can bring all of them."
These workshops also provide resources and handouts aimed at connecting caregivers with information from organizations such as Every Child Ready to Read and Northwest Community Hospital.
Each week the series invites different specialists to keep the workshop informative and useful for parents. Several early literacy librarians attended the first workshop, talked with caregivers, and interacted with the children. Future workshops will include visits from a speech pathologist, dietician and music therapist.
The workshop ended with an interactive sing-a-long led by Papanastassiou and Early Literacy Services' Supervisor Rebecca King.
"Definitely do it," Federer recommended. "It's always a challenge with little kids to get out of the house, but it's a great opportunity to meet people and play and learn together."
Here are the topics that were covered during the four-weeks:
September 20- Speech Pathologist
September 27- Healthy Development
October 4- Dietician
October 11- Music Therapist
See more of our upcoming programs for kids and families on the
monthly calendar
.