Arlington Heights commemorates Memorial Day Parade's 100th Anniversary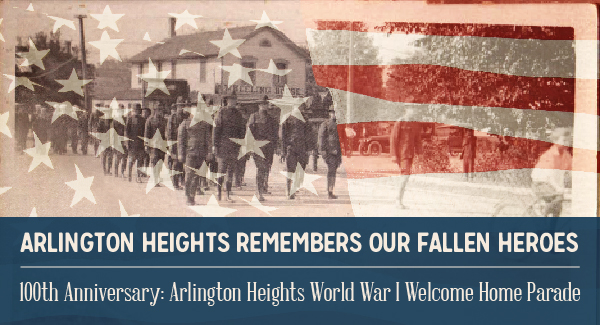 In 1919, Arlington Heights residents welcomed home their family and friends who served during World War I while also remembering the village's fallen heroes during what is now known as Arlington Heights' Memorial Day Parade.
100 years later, the Veterans Memorial Committee is busy getting ready for the parade's 100-year anniversary, and there are plenty of big plans underway to commemorate those who have served, past and present.
This year the parade will begin at 9:30 a.m., Monday, May 27 at Sigwalt Street and Arlington Heights Road in front of the Village Hall.
Commemorative coins will be presented to fallen hero families, veterans, active military, and people and organizations who have supported Memorial Day in Arlington Heights.
An Illinois National Guard helicopter will also land in Recreation Park at 10 a.m. and will be open to the public for tours, and a video covering the history of the parade has been created by the Veterans Memorial Committee and community partners, and can be seen below.
Following the parade there will be a Memorial Day Ceremony in Memorial Park at 11 a.m. honoring the 58 Arlington Heights veterans who died in service, from the Civil War to Afghanistan.
The library will be closed all day on Monday, May 27 in observance of Memorial Day. Don't forget to stop by and join the library's bookmobile, which will be present during the parade.